Top Mobile Brand in the Market
The top mobile brands can vary depending on various factors such as market trends, consumer preferences, and regional variations.
However, some of the well-established and popular mobile brands globally include:
Apple: Known for its premium iPhones and iOS ecosystem.
Samsung: Offers a wide range of smartphones across different price segments with features like AMOLED displays and powerful processors.
Oppo: Known for its camera-centric smartphones and innovative features.
Xiaomi: Known for providing feature-rich smartphones at competitive prices, particularly in the budget and mid-range segments.
OnePlus: Renowned for its flagship-level smartphones with a focus on performance and user experience.
Huawei: A major player, particularly in the Chinese market, known for its advanced camera technology and powerful hardware.
Google: Known for its Pixel smartphones, which offer a pure Android experience and excellent camera capabilities.
Vivo: Similar to Oppo, Vivo emphasizes camera technology and often introduces innovative features.
Motorola: Known for its mid-range and budget-friendly smartphones with a near-stock Android experience.
LG: While LG recently announced its exit from the smartphone market, it was once known for its high-quality flagships and innovative features.
It's worth noting that the popularity and rankings of mobile brands can change over time due to various factors, including market dynamics and consumer preferences.
Therefore, it's advisable to consider the latest reviews, specifications, and market trends before making a purchase decision.
The  Camera Mobiles in India in 2023
The Indian smartphone market is one of the most competitive in the world, with a wide range of devices to choose from.

If you're looking for the best mobile in India in 2023, here are a few of the top contenders based on features and customer requirements
Our precious post is how to select best camera phone
Samsung Galaxy S22 Ultra:
The Samsung Galaxy S22 Ultra is the latest flagship smartphone from Samsung and it offers the best of everything, including a powerful processor, a great camera, a long-lasting battery, and a stunning display.
Apple iPhone 14 Pro:
If you're an iPhone fan, then the iPhone 14 Pro is the best option available in India.

It has a long-lasting battery.

It offers a powerful A15 Bionic chip, an excellent triple-lens rear camera system, and a premium design.
Oppo Reno 10  Pro
Oppo Reno 10 Pro 5G sports a triple camera setup at the back.
It has 64MP rear camera with an Omnivision OV64B sensor
It includes a  and 50MP primary Sony IMX890 sensor with Optical Image Stabilization
One of the best-designed smartphones is under Rs 40,000.
It not only looks good but it is also well-built and has a good in-hand feel.
The phone scores big points for its good display and battery life.
The performance unit is passable for the price as the competition offers far better value
Difference Between I phone and Oppo camera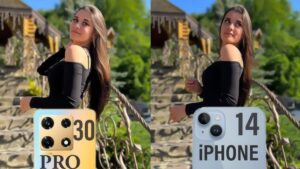 The OnePlus 10 Pro is another great option if you're looking for a high-end smartphone.

It has a fast processor, a sharp display, and a triple-lens rear camera that takes stunning photos.
Vivo V27 Pro Phone Camer

a
It offers excellent performance in the camera department, a great 120Hz HDR10+ screen
Rear Camera:

a 50-megapixel Sony IMX766V primary camera,
an 8-megapixel ultra-wide camera
a 2-megapixel macro camera.
It has the ability to shoot videos at 4K resolution at 30/60fps, and 1080p resolution at 30fps, with gyro-EIS (Electronic Image Stabilization) feature to stabilize footage
The vanilla Vivo V27 is more than enough if you only use your phone for browsing social media, watching movies, and taking a photo
Difference Between I phone 14 and Vivo 27 pro Camera
 Budget  OPPO Reno 10 series and  X6 series
Oppo is a popular mobile brand known for its camera-centric smartphones and innovative features.
Oppo phones are generally known for their sleek design aesthetics, camera capabilities, and software features that enhance the photography experience.\
However, it's always recommended to review the specifications, features, and user reviews of specific Oppo models before making a purchase decision to ensure they meet your specific requirement
Oppo Find X3 Pro:

This flagship device features a high-resolution display with a 120Hz refresh rate,
Snapdragon 888 processor,
A versatile quad-camera setup
Supports fast charging.

Oppo Reno 8 Pro 5G:

It offers a sleek design,
MediaTek Dimensity 1200 processor,
an AMOLED display with a 120 Hz refresh rate,
A good capable camera system.

Oppo A74 5G: Positioned in the mid-range segment, it features a Snapdragon 480 processor, a large display, 5G connectivity, and a high-capacity battery.
Oppo F21 Pro+: This smartphone boasts a MediaTek Dimensity 800U processor, an AMOLED display, quad-camera setup, and supports fast charging.
Oppo A15s: Positioned in the budget segment, it offers a MediaTek Helio P35 processor, a large display, a triple-camera setup, and a decent battery.
Recent Oppo Phone
The company offers a wide range of smartphones across various price segments to cater to different consumer needs.
OPPO F23.
OPPO Reno 10 Pro series.
OPPO X6 Pro.
OPPO X6.
Oppo N2 Flip at Rs 89,999.on
Google Pixel 6 Pro:
This is a great option if you're looking for a unique smartphone with a unique design.

It has a powerful Tensor chip, a great camera, and a long-lasting battery.

How to Select the Best Mobile?
Selecting the best smartphone for yourself can be a subjective decision based on your personal preferences and requirements. Here are some key factors to consider when choosing a smartphone:
Operating System:

Decide whether you prefer iOS (Apple) or Android (Google).
Each has its own features, interface, and ecosystem.
Consider your familiarity with the operating system and the apps and services you use.

Budget:

Determine your budget range. Smartphones are available across various price segments, so it's essential to set a budget and look for options within that range.

Display:

Consider the display size, resolution, and quality.
Larger screens are ideal for multimedia consumption, while higher resolution and AMOLED/OLED panels offer better visual experience.

Performance:

Look for a powerful processor (e.g., Qualcomm Snapdragon, Apple A-series)
sufficient RAM for smooth multitasking and running demanding apps or games.

Camera:

Assess your photography needs and look for cameras with higher megapixel counts
Multiple lenses for various purposes (wide-angle, telephoto, macro)
Advanced features like optical image stabilization (OIS) and night mode.

Battery Life:

Consider the battery capacity and check reviews or battery life tests to ensure it can last throughout your day.
Look for phones with fast charging or wireless charging capabilities.

Storage:

Determine the storage capacity you require for apps, photos, videos, and other files.
Consider if expandable storage options (microSD card slots) are important to you.

Connectivity:

Check for features like 5G support, NFC (for contactless payments), and headphone jack availability (if it's essential to you).

Software Updates:

Consider the manufacturer's track record in providing software updates. Regular updates ensure you have access to the latest features, security patches, and improvements.

User Reviews:

Read reviews from reputable sources and consider user feedback to gain insights into real-world performance and experiences with the phone you're interested in.
Conclusion
Choosing the best mobile in India can be a daunting task, but it's important to consider your needs and budget before making a purchase. By following the tips in this blog post, you can find the perfect mobile for your requirment

Remember that everyone has different priorities and preferences, so the "best" smartphone is subjective and may vary for each individual. It's advisable to prioritize the features and aspects that matter most to you while considering your budget constraints.